Finishing Services in the UK
If you need your parts produced with Xometry to be further post-processed, you can indicate it in the Instant Quoting Engine and choose from 40+ finishing options in just a few clicks.
Xometry will work with you from design to production, right through to the finishing of your parts to achieve the required surface finish and functionality.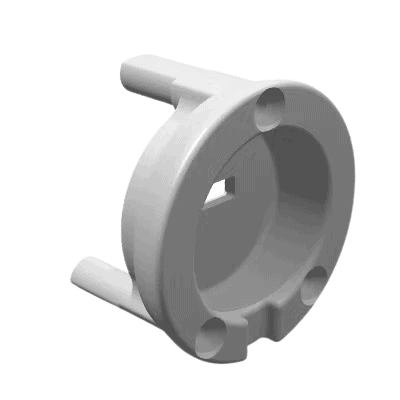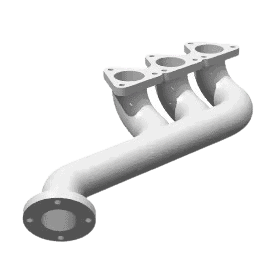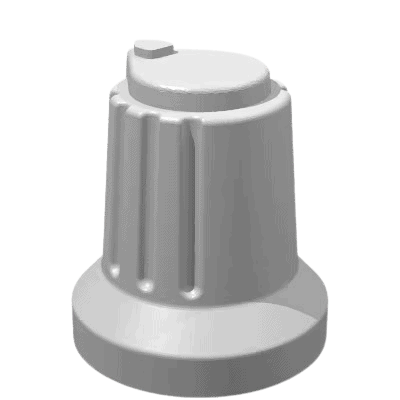 Quote Your Parts With One of 40+ Finishes
STEP | STP | SLDPRT | STL | IPT | 3DXML | CATPART | PTC | PRT | SAT
All uploads are secure and confidential.
Surface Treatments
Bead blasting

Bead blasting involves spraying a pressurised stream of tiny beads of media, plastic or glass beads, from a nozzle onto the surface of the part. This removes the burrs and imperfections, leaving a smooth finish.

Notes:

Ideal as a preliminary surface finish treatment for painting and dying. Bead blasting before anodising is also an ideal surface preparation, creating a non-reflective surface.

Final result:

Slightly grainy in the touch
Uniform, matte or satin-like appearance

Electropolishing

An electrochemical process that cleans steel parts to reduce corrosion and improve appearance by making the metal brighter.

Final result:

Reduced corrosion
Brighter appearance

Media tumbling

Tumbling vibrating media to remove sharp edges and burrs on machined parts.

Notes:

Sharp edges may be dulled. Parts with fragile features are not recommended for tumbling.

Final result:

Smooth in the touch
Satin-like matte appearance

Vapour smoothing

Bathing printed parts in vaporised chemical solvents to create a controlled chemical melt of the material.

Notes:

Can soften sharp edges
Not suitable for small features and thin walls

Final result:

Smooth in the touch
Glossy appearance

SPI

SPI finishes are a set of standard mould finishes with different polished textures for enhanced properties.

Notes:

We recommend providing a CMF (Colour/Material/Finishing) that defines the visual and tactile characteristics of a product, ensuring design consistency and manufacturing accuracy.

Final result:

Heavily polished, to semi-gloss to fine and coarse matte depending on the selection
A1, A2, A3, B1, B2, B3, C1, C2, C3, D1, D2, D3

VDI

VDI is an international standard for mould texturing of matte surfaces. It is mainly processed by Electrical Discharge Machining (EDM) when mould machining.

Notes:

We recommend providing a CMF (Colour/Material/Finishing) that defines the visual and tactile characteristics of a product, ensuring design consistency and manufacturing accuracy.

Final result:

Fine-to-coarse grain depending on the selection
VDI12, VDI15, VDI18,VDI21, VDI 24, VDI27, VDI30, VDI33, VDI36, VDI39, VDI42, VDI45

Sand blasting

Sand blasting is a surface preparation technique involving high-velocity abrasive particles to remove contaminants and roughen surfaces.

Notes:

It's commonly used for cleaning, texturing, or preparing plastics for processes like painting.

Final result:

Matte surface
Enhanced paint adhesion
Adhesives and Coatings
Passivation

A colorless coating that improves corrosion resistance for 200 and 300 series and precipitation hardened corrosion-resistant steels by removing free iron from the surface.

Quick clear

Clear coat evens out the surface of the part, which allows light to pass through with little distortion.

Chromate conversion

Chromate conversion coatings, also known as chem-film, enhance corrosion resistance and conductivity properties and can be used as a base for paint. Type I chromate conversion caused the coating to appear gold or brown in color typically

Notes:

Type I chromate conversion caused the coating to appear gold or brown in color typically
Type II chromate coating will appear clear and does not affect surface colouration

Black oxide

Black oxide is a type of conversion coating for ferrous materials, such as steel and stainless steel, which blackens the top layer of the material. It can be used to reduce reflection and glare, as well as provide some additional corrosion resistance without affecting part dimensions.

Final result:

Reduced reflection and glare
Smooth black matte appearance

Dyeing

Colouring parts using dye.

Notes:

The dye penetrates 0.25 mm into the part surface.

Powder coating

Provides a continuous, protective colour finish on parts using evenly applied, heat-cured paint. The finish is usually tougher and even compared to conventional painting.

Notes:

Metals like aluminium and steel can be efficiently coated with polymer powders.

Spray painting

Provides a continuous, protective color finish which is applied by spraying.

Notes:

Paint coating is just on the surface level, if it is scratched or subjected to wear and tear, the internal natural colour is visible
Possibility of requesting custom colours (RAL)

Available colors:

Black

Custom colour (RAL)
Anodising
Anodising (type II)

Type II anodise provides increased corrosion resistance and can be used as a base for paint and other finishes.

Notes:

Involves using dyes to affect the part's surface colour
Type II coatings are susceptible to wear and may bleach or fade under prolonged direct sunlight
Possibility of requesting custom colours (RAL)

Available colors:

Grey

Natural

Orange

Red

Yellow

Purple

Custom colour (RAL)

Black

Blue

Gold

Green

Hardcoat anodising (type III)

Type III hardcoat anodise produces a thicker layer of standard anodising, making it more durable and wear-resistant. Can be used as a base for paint and other finishes.

Notes:

Colours tend to come out slightly dark due to thickness
Anodised colours cannot be matched to specific Pantone or RAL colours

Hardcoat anodising (type III) with PTFE

A hard coat anodise process that embeds PTFE to create a self-lubricating, dry contact surface with Type 3 hard coat's protective properties.

Notes:

This finish can be used on aluminium alloys or titanium and increases the product's service life.

Final result:

Colour can vary from light to darker gray or brown

Titanium anodising

Titanium anodising is the deliberate electrolytic oxidation of the surface of titanium (or titanium alloy) components to produce surface properties suited to the application for which the part is being made.

Final result:

Matte gray surface
Enhanced corrosion and abrasion resistance
Metal & Precious Metal Plating
Electroless nickel plating

Electroless nickel plating provides a uniform nickel coating, which offers protection from corrosion, oxidation, and wear on irregular surfaces.

Final result:

Protection from corrosion, oxidation and wear on irregular surfaces
Brighter appearance

Gold plating

Gold Plating provides good corrosion and tarnish resistance. Gold has low contact resistance, excellent conductivity, and solderability.

Final result:

Gold-like appearance
Increased corrosion and tarnish resistance

Silver plating

Electroplating silver provides good corrosion resistance but easily tarnishes. Silver offers high solderability and electrical conductivity.

Final result:

Silver-like appearance
Increased corrosion-resistance
Easily tarnishe

Zinc coating / Galvanising

Zinc plating involves the electrodeposition of a thin coating of zinc metal onto the surface of another metal object, known as a substrate. The zinc coating creates a physical barrier that prevents rust from reaching the underlying metal surface.

Final result:

Increased corrosion resistance
Heat Treatments
Annealing

The annealing process involves the heating of a metal to or near the temperature at which recrystallisation begins without change in the stresses. After heating, the metal is cooled to room temperature in the oven or put in the sand.

Final result:

Increased elasticity
Reduced hardness
Improved cold working capacity of the metal

Case-hardening (Carburising)

A heat treatment process which includes hardening the surface of metal while allowing the metal underneath to remain soft. As the name implies, carburising is inducting carbon or nitrogen into low-carbon alloys at elevated temperatures so that the hardenability increases.

Tempering

A heat treatment method that is mainly dedicated to reducing the amount of hardness of metals. It involves heating the metal to a temperature below the critical point. The temperature is adjusted depending on the amount of hardness that needs to be reduced and it varies depending on the metal type as well.

Final result:

Reduced hardness
Increased elasticity and plasticity
Reduced yield and tensile strength

Through hardening

Through hardening, also known as quench hardening, is a heat treatment process used to increase the hardness and strength of a material by heating it to a high temperature and then rapidly cooling it, usually by immersing it in a quenching medium such as oil, water, or air.

Final result:

Hardened surface layer that is resistant to wear, abrasion, and deformation
The core remains tough and ductile